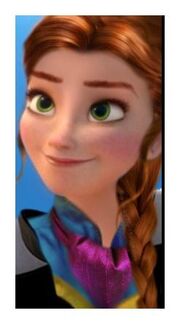 Peta Janel Slater is a fanon character in "The Tale of the Four Sisters." She is Princess Ellery's best friend and cat lover. She is also Kym Tomago's mentor.
Personality
Edit
Peta is sassy, loud and popular. She knows what she wants to say and how to run things. That being said, she and Anna get along great. She can also be a bit immature at times, to the disappointment of Elsa, Anna, Sharna and Ellery. Peta is a self proclaimed hipster and at times, acts like one.
Personal Appearance
Edit
Peta is a hipster and her mood changes dramatically with each outfit. She has long red hair and green eyes and her hair is usually in a loose braid or up-do. Her coronation outfit consists of a blue v-necked fit & flare dress and pink flats, with a silver beaded headband. Her winter outfit consists of a bright pink "Time For a #SELFIE" t-shirt, a green skirt and black tights with black runners. In the scene titled "Fantastic Peta," Peta also wears silver short shorts in addition to her top and shoes.
Role in the series
Edit
Peta is first shown in "The Tale of the Four Sisters," with her then boyfriend Zane attending Princess Sharna's coronation party. She showed off a lot by beating Sharna in a dance competition. She is later shown by Sharna's side as she chases after her sister. When Sharna insists that she will bring back her sister, Peta sarcastically replies "Good luck tryin'."
Later, Peta is seen drinking Starbucks coffee and complaining to Emma. When Emma notices that Anna & Sharna are still missing, Peta replies with a sarcastic "Where were you? They left 3 days ago," while taking another sip of coffee. However, Hans insists that Peta come with him to bring back Sharna & Anna for saying something so ridiculous.
In "Fantastic Peta," Emma, Peta & Ellery are watching a cat video on Peta's phone. When Marshmallow appears, Peta is the first to challenge it with her phone in hand. Unfortunately, the glass screen cracks and cuts her hand, rendering her useless and Hans challenges it next. Peta, however will not give up and performs the Korean pop hit "Fantastic Baby," while in short shorts and a "Time For a #SELFIE" shirt. She also starts to twerk, but is cut off by Hans, calling it "disappointing and cat disapproved."